[column parallax_bg="disabled" parallax_bg_inertia="-0.2″ extended="" extended_padding="1″ background_color="" background_image="" background_repeat="" background_position="" background_size="auto" background_attachment="" background_video="" vertical_padding_top="0″ vertical_padding_bottom="0″ more_link="" more_text="" left_border="transparent" class="" id="" title="" title_type="single" animation="none" width="1/1″ last="true"]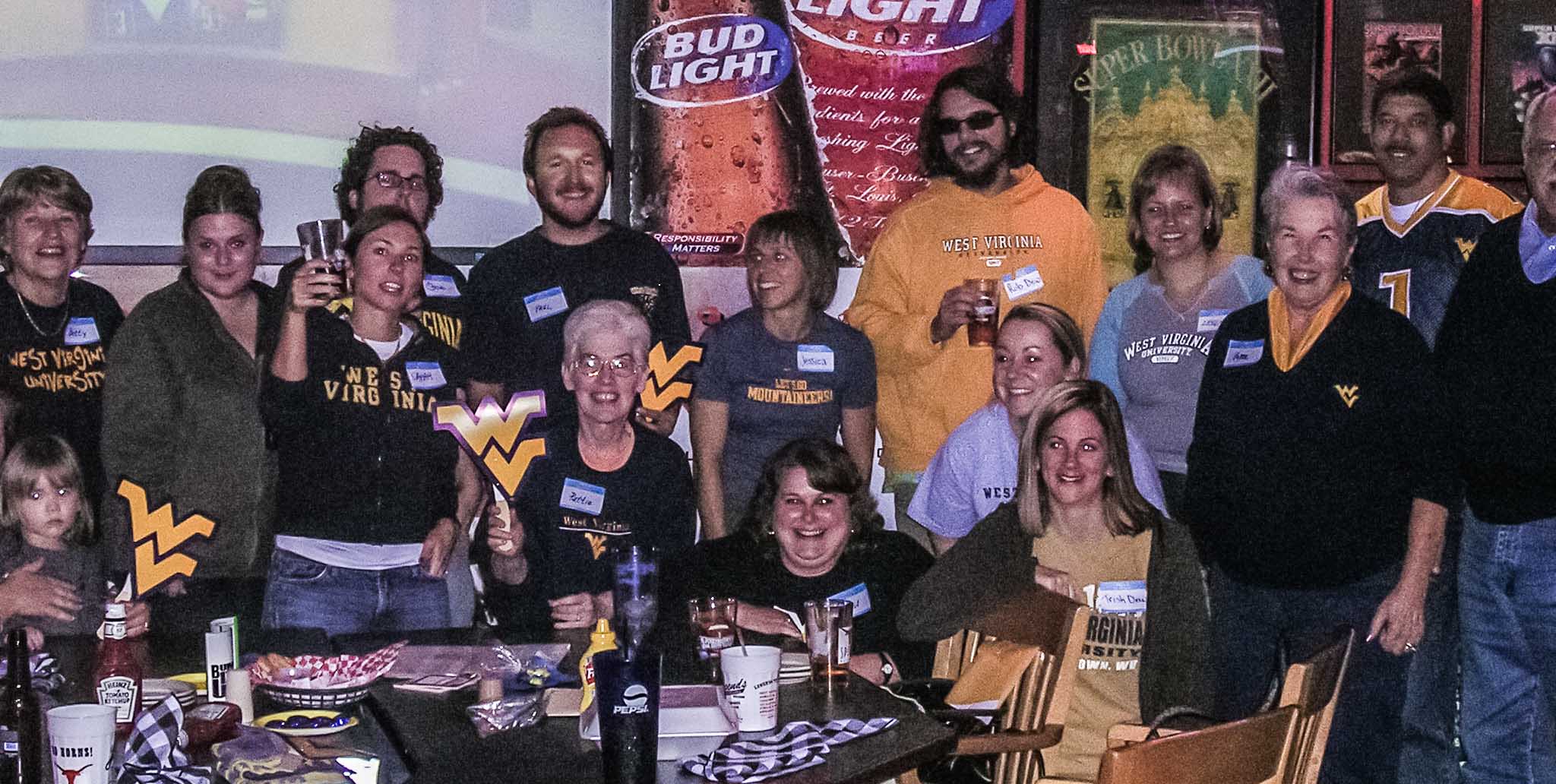 History of the HCM Chapter
The Hill Country Mountaineers alumni chapter was established in September of 2005.
In mid 2004, a rather curious and definitely tenacious female residing in Austin (Pattie Roe), Texas posed the question, "could I be the only WVU alum in Central Texas?" Surely not. So she set out to find an answer sending numerous e-mails requesting information to the alumni association office in Morgantown, WV. It took nearly a year to receive answers. But, not to be denied, this persistent individual finally secured the data and much to her surprise was blown away to learn that more than 250 WVU alums did exist in Central Texas.
After a series of steps to contact interested individuals, the very first meeting (in the summer of 2005) was scheduled in the Balcones Board Room at the Holiday Inn NW, Austin, TX – four people showed up. The organizational meeting that followed on August 12, 2005 at the same location (Balcones Bd. Rm., HI NW) drew 13 people. At that meeting, a name for the chapter was decided upon based on suggestions including: WVU Centex, Waterloo, Hill Country Mountaineers, MOCT (Mountaineers of Central Texas), and Heart of Texas (HOT). Officers were named including: Pattie Roe, President; Ray Wandell, Vice President; April Wappes, Secretary-Treasurer and Betty Skaggs, Webmaster.
A few weeks later following the submission of our chapter's draft charter to the WVU Alumni Association, we received word that the charter was approved and the Hill Country Mountaineers became an official WVU alumni chapter in September of 2005. The chapter scheduled and announced its first football gamewatch event at The Legends Sports Bar & Grill (Holiday Inn NW) for September 4, 2005. Note: That was the season of the Sugar Bowl "shocker," the amazing victory over Georgia with Pat White at quarterback and, of course, Coach Rod as head coach.
[/column]